About
me
&
My
Quilts
Many, (many?) years ago my grandmother took me to my first 'quilting' in the church basement. I don't think I was much more than 6 or 7 at the time but all the same I was hooked(sewn). As achild I learned todo anything I could with a needle and then discovered drawing. My grandmothers were two of the most influential and wonderful people in my development of my skills and so I suppose would have to be considered in any creative endeavor I attempt (including these pages). I hope you will enjoy your travels through my journey's as an artist and will share with me your thoughts.
Angela's first quilt top.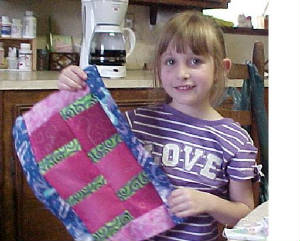 Angela is my 7 year old granddaughter and this was her first top she made by herself.
What better way to share than the very
traditional with the future.